Ceramic Tile Flooring in Meadville, PA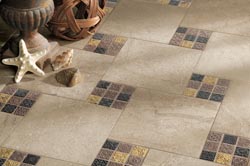 If you're looking for an easy way to boost the value of your home, ceramic tile flooring is a perfect solution that is simple to clean and maintain. It is durable, resists moisture and stains, and is a great idea for anyone whose schedule does not permit for regular upkeep. Ceramic tile also gives a special flavor to any room and welcomes your guests with a taste of your personality as soon as they enter your home.

The only thing more impressive than the beauty of a ceramic tile floor is its durability. In addition to providing any room with a touch of elegance, ceramic tile offers a resilient flooring surface that stands the test of time. After we install grout and a layer of protective glaze, your tile will resist damage from water and any other liquid. This makes it a great choice for any room that is susceptible to high traffic and the potential for liquid spills, such as your kitchen or bathroom.

Trust Us for Ceramic Tile Flooring Installation from the Experts
After an initial consultation to discuss the benefits and financial aspects of your flooring project, we help you decide which tile design is best for you. We combine your ideas and our expertise to work together to find a solution for your ceramic tile flooring. Installation is provided by our team of specialized flooring technicians, who have the tools and knowledge necessary to install your new floor with quality and efficiency.

We take pride in delivering superior installation service for all of our clients, no matter how big or small your rooms may be. Our variety of styles and patterns makes for a broad range of flooring possibilities, so your options for potential design are limited only by the confines of your imagination. Whether you'd like a simple, standard design or prefer a more complex, intricate style, our staff of professional flooring installers can help you find the perfect choice for any room in your home and install it with ease.

Experience the Difference of Ceramic Tile Floors
From smooth and shiny to rugged and rustic, ceramic tile comes in a variety of textures that are designed to complement any style ideas you may have for your flooring project. Whether you're interested in a single-color pattern or would like to mix up your tiles instead, we look forward to helping you discover the floor you've been looking for. Simply share any ideas you have in mind for your flooring project and we'll do the rest, from inspection to installation and everywhere in between.

Our team of flooring design professionals has worked with numerous types of projects over the years, so we've seen nearly every combination of colors and textures imaginable. We're prepared to help you with your next flooring project at every step of the process. From start to finish, we offer design advice and solutions for every room in your home, so you can count on us to help you create the home of your dreams from the ground up.
Contact us when you're looking for ceramic tile flooring for your home. We serve clients in Meadville, Pennsylvania, and the surrounding areas.