Utility-Focused Closet Organizers in Meadville, PA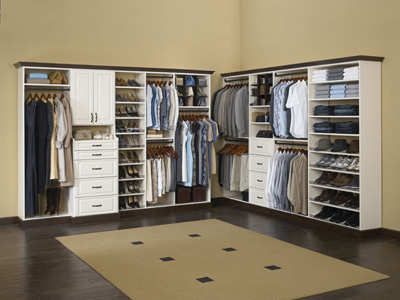 Without a suitable method, organizing all the clothes you own can be an insurmountable task. If a lack of structured space in your closet has you fighting your way through clutter to find shoes every morning, get in touch with the experts at Foulk's Flooring America.
We offer a range of solutions for customers in need of more usable space and less chaos in their closets. Our experts can add utility and style to your closet with reliable options like:
Inserts
Organizers
Storage Systems
No matter what your current closet looks like, we can help you get it back in order. With years of home improvement experience and a passion for helping our customers, we deliver unparalleled artistry and smart strategies to transform your storage space from a no-go zone to an impressive feature worth showing off to others.
When you need closet organizers in Meadville, PA, our team has the expertise and commitment you can trust. Don't live with a closet that makes you cringe. Let us redefine storage in your home today.
Tailored Closet Solutions
We understand that your space and your life are unique. When you work with us, our experts go the extra mile to cater to the particular specifications you have. Our goal is to craft a space that speaks to your specific preferences and elevates your daily life with convenient, appealing order.
When you want your shoes in a certain place or your shirts in a certain order; our closet organization professionals listen to you and design solutions that have your comfort and convenience in mind. No matter what you need to feel confident in your closet, we make your vision possible with minimal stress for you.
No More Time Wasted Deciding What to Wear
By having your closet organized in accordance with your needs, you gain more than a better-looking space. How often have your mornings been tied up untangling clothing or trying to find the outfit you need for a special occasion? When you install one of our stylish, custom-fitted closet storage systems, you can put those mornings behind you.
We handle the hard part. All you need is a storage space and an idea. In as little time as possible, our experts measure, plan, and install a functional system for organizing:
Shoes
Purses
Dresses
Pants
Suits
You deserve a storage space that doesn't stress you out. We make that happen, so that you can enjoy opening your closet door again. For any closet and any organization need, our team has you covered.



Contact us today to get more organized and add style to your closet. We proudly serve Meadville, Conneaut Lake, Saegertown, Franklin, Linesville, Pennsylvania, and the surrounding areas.