Closet Organizers in Meadville, PA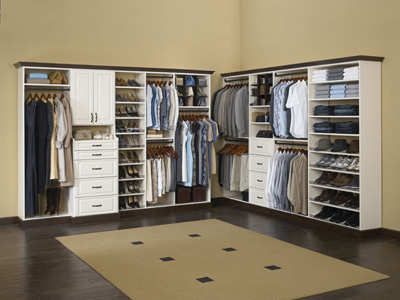 Do you cringe when open your closet door because it's so cluttered and disorganized? Invest in our closet organizers in Meadville, PA, and you'll never have to worry about that again. We offer inserts, organizers, and storage systems that give you a place for everything and make finding what you need easier than ever. Our experts have worked in home improvement for years and know how to design and install a setup that perfectly meets your needs. Feel free to explore possibilities and ask us any questions. We want you to be completely happy with our work. In fact, we're proud to say that much of our success has been built on word-of-mouth referrals.
You'll love the difference the right system makes. Nobody wants the closet to be a place they dread venturing into, and our products make it something you'll want to show off instead. Investing in our closet storage systems now can pay off for years, because having an organized closet is something that never goes out of style. Depending on what we install, it's possible you may even see a boost in property value. You'll be spared having to do those massive cleanouts, because now your closet will be nice and neat all the time.


Closet Organization That's Catered to You
Of course, we understand that not all of our solutions work the same way for everyone. No two closets or customers are exactly alike, and we take care to adapt our services accordingly. That's why we offer custom closet inserts that are made to accommodate your closet size and your needs. Our goal is always to save you space, and we're willing to adjust our service as needed to make that possible. We listen to your concerns and vision and encourage you to bring in samples or photos of what you like.
Could you use a separate space so you can keep your work clothes away from your casual clothes? No problem. Having trouble with storage because everything is too high to reach? We can fix that right away. With us, you aren't limited to shelves and rods. We can do racks, drawers, and much more. Whether you're looking for your other shoe or that special necklace you wear to parties, we help you ensure it's in an easily accessible place where you'll find it every time. No matter what kind of closet you have or what you keep in it, we can create a solution for you.


Avoid the Time Wasted Deciding What to Wear
When you select the system that's right for you, the view of your closet fits perfectly with your needs on a daily basis. Our team designs customized closet insert installations that display what you want and tuck away the things you don't often use. Do you wish for more storage? Or a separate area for your dresses, shoes, and purses? Rely on us to provide an organized closet that perfectly meets your needs—saving you time and making your mornings more enjoyable.



Contact us to organize your closet the easy way. We offer our services to homeowners in Meadville, Conneaut Lake, Saegertown, Franklin, and Linesville, Pennsylvania, and the nearby communities.