Boost Home Beauty with Our Flooring in Meadville, PA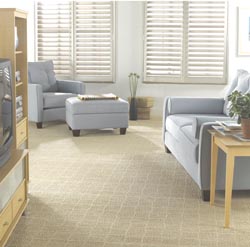 Is the flooring in your house looking a little worse for wear? If so, give your property a makeover from the ground up with our flooring in Meadville, PA. With an extensive inventory available for you to choose from, Foulk's Flooring America is the definitive destination for upscale materials, including:
Hardwood
Carpet
Laminate
Luxury Vinyl
Whether it's your first renovation or the latest in a long line of remodels, we have the right products and professionals to make your project a breeze. Enjoy an easy, transparent, and supportive shopping experience when you make us your first stop for stand-out surfaces.
The Coveted Covering Leader
Why do customers choose us more often than our competitors? It comes down to a simple matter of market leadership. Though locally owned, our flooring store is a member of an incredible nationwide network of fellow retailers. That support gives us the best blend of buying power and personalized service in the area.
Don't find yourself torn between focused, local help and the freedom to design your way. Get both when you partner with our team for all your floor covering needs. From the moment of your arrival, our showroom is at your disposal to browse, compare, and see as many products as your desire under clear, home-like lighting.
At our store, the only surprise is how much value you gain before you even make a purchase. Take advantage of our knowledge of top flooring brands to make certain you're buying the right material for your intended purpose. Without ever spending a cent, we'll give you all the information necessary to select a surface that excels in all the right ways.
Fall in Love with Floors that Last
Because we're committed to quality, we carefully curate our inventory, selecting for products that give you the most value for the longest time. In addition, our experts can help you understand the maintenance requirements of any material before you buy. That way, you know precisely what to expect and how to keep the look you love for as long as possible.
Want durable home flooring that requires minimal attention to stay strong for years? You can find it here. Enjoy the character and versatility of a more hands-on material? We've got you covered. Whether you want the freedom to refinish down the line or the convenience of easy upkeep, turn to us for comprehensive shopping support.

Contact us now to talk with one of our team members about how we can deliver fantastic floors for you. We proudly serve Meadville, Conneaut Lake, Saegertown, Franklin, and Linesville, Pennsylvania, as well as the surrounding areas.