Laminate Flooring in Meadville, PA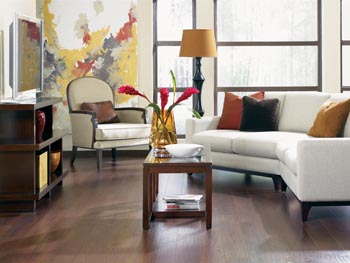 Transform your home or business by upgrading the floors. At Foulk's Flooring America, we carry an impressive selection of laminate flooring in Meadville, PA. You can choose from a broad spectrum of hues and designs at an affordable rate. Our reputable store stays competitive by maintaining excellent buying power in the market. This allows us to offer you quality laminate at a price you won't believe. Discover the possibilities today for all of your flooring projects. Stop by and peruse our selection of quality laminate floors that work in virtually every room of your home.
The Unique Construction of Laminate
Laminate is engineered in four layers to provide homeowners with the dependability and aesthetics they seek. These layers include balance, core, pattern, and wear. Each layer plays a pivotal role in protecting the integrity of your floors. They work to make the material resist moisture, water, stains, and gouges. With all of them combined together, your floor stands up to whatever walks on it and looks completely natural. In addition, the third layer of melamine can be made with a photographic image to provide the appearance of high-end hardwood, stone, or tile.
Huge Collection of Laminate Flooring Options
The great thing about laminate is that it gives you the look of expensive flooring at an inexpensive price. It imitates natural stone, hardwood, and even ceramic. Maintenance is simple too, just a regular sweep, vacuum, or mop is required. Laminate's resistance to spills and stains means you can have guests over and let your kids and pets run around worry-free. Whether you prefer modern or classic, we have the matching material for you.
Top Laminate Flooring Brands
One of our knowledgeable flooring specialists helps you select laminate floors that make your design visions come to life. Feel free to bring in samples, photos, and any ideas you have. Tell us about your lifestyle and design preferences. We'll show you our variety of high-quality laminate flooring options until you find the one you like. Our showroom includes brands from the following top manufacturers:
Mannington
HomeCraft
Mohawk
Shaw
Armstrong
Trustworthy Laminate Flooring Installation Services
Instead of spending time and resources looking for a qualified installer, take advantage of our professional laminate flooring installation service. Our expert flooring contractors have the technology and the training to properly install every piece of laminate tile in any home.
Whatever money you might save by settling for lower-quality installation will be used up on repairs when your floor begins to have problems. You can't put a price tag on peace of mind, which makes us truly the best option. Laminate installation is a breeze because it can go over any floor except carpet, which means your previous floors don't have to be removed. With our team working, you can count on a job done both quickly and correctly.
From our fully stocked showroom and free consultation to our professional installation, we walk you through every step of the project. Our friendly service starts with a free estimate, during which we let you know the types of laminate available and the cost of the project upfront. No surprises, and no obligation to purchase. From there we take you around our showroom and help you select the perfect material for your home.
Once you've made your choice, we install your floor for you, too. Our highly skilled designers, installers, and flooring experts are here to help you with anything you need. We're a family owned and operated business that knows how to treat our customers right. Come on in and you'll see exactly what that means.
Contact us to learn about our laminate flooring options. We're proud to provide laminate to clients in Meadville, Conneaut Lake, Saegertown, Franklin, and Linesville, Pennsylvania, and the surrounding communities.