Luxury Vinyl Flooring in Meadville, PA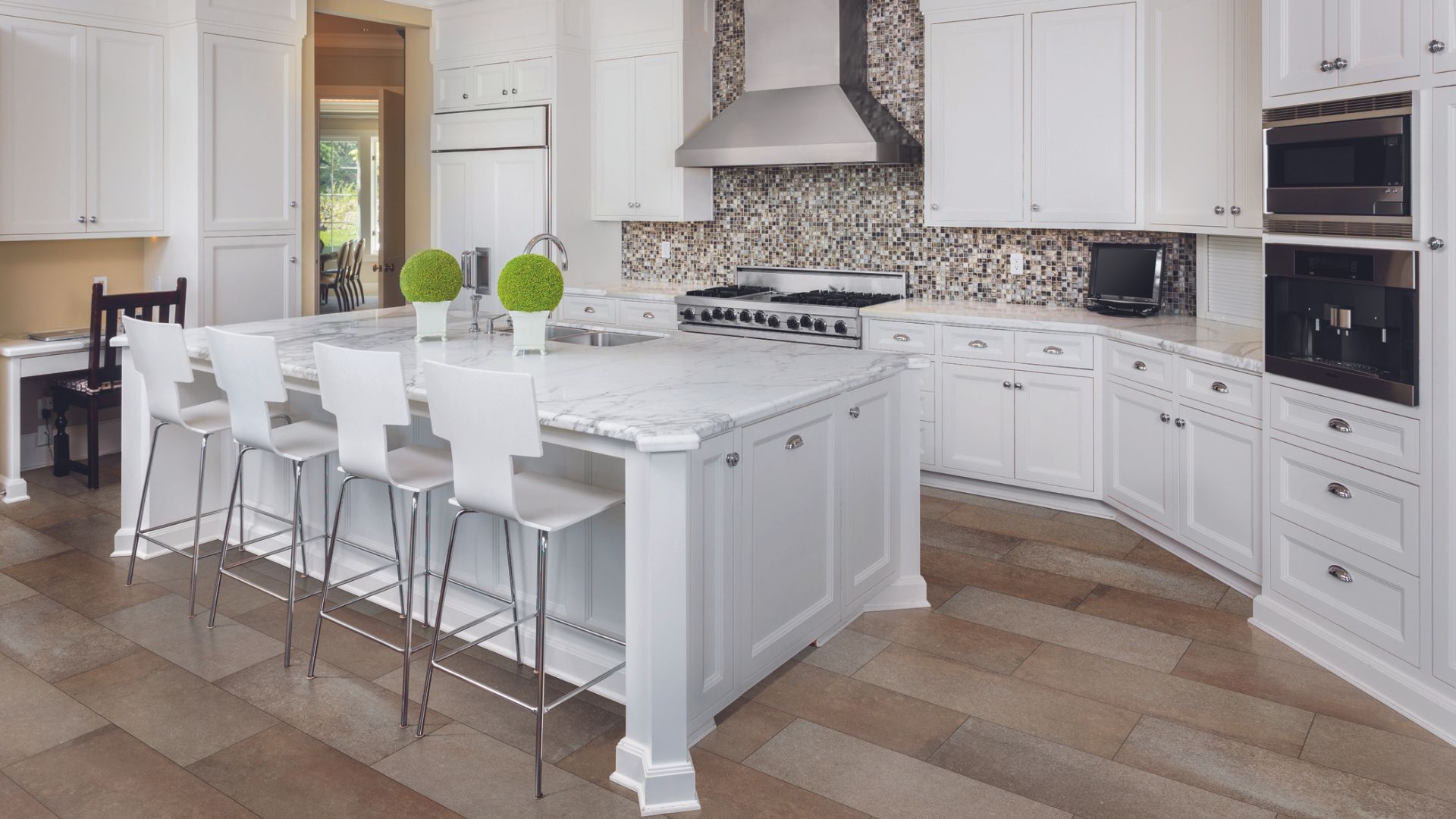 Transform your Meadville, PA, home with the timeless allure of luxury vinyl flooring from Foulk's Flooring America. This contemporary flooring solution captures the essence of natural materials, delivering a harmonious blend of aesthetics and functionality. Luxury vinyl flooring effortlessly emulates the beauty of hardwood, stone, or tile floors while seamlessly accommodating your budget and lifestyle.
Crafted from durable synthetic materials, our luxury vinyl flooring boasts exceptional resistance against everyday wear and tear, fluctuations in climate, and inevitable spills. Its inherent moisture resistance guarantees long-lasting durability, preventing unsightly cracks even under pressure. Plus, maintenance is a breeze, simplifying your daily life.
For the ultimate luxury vinyl flooring experience in Meadville, PA, look no further than Foulk's Flooring America. Our showroom is your local haven, staffed by dedicated flooring experts ready to assist you in exploring the diverse options perfectly tailored to your home and unique needs. Regardless of your budget, we offer a comprehensive range of luxury vinyl flooring solutions to elevate the appeal of your Meadville residence.
Luxury Vinyl Types
Foulk's Flooring America offers an extensive selection of luxury vinyl flooring options, including luxury vinyl plank and tile. Whether you seek the warmth of wood, the sophistication of stone, or the convenience of a seamless sheet, we have the perfect luxury vinyl solution to enhance your home's charm and functionality. Learn more about these vinyl flooring types:
Luxury Vinyl Plank (LVP):
Emulates the natural beauty of hardwood flooring.
Available in a wide array of wood species, colors, and finishes.
Provides a realistic wood-grain texture for an authentic look and feel.
Resistant to moisture, making it suitable for bathrooms and kitchens.
Luxury Vinyl Tile (LVT):
Mimics the elegance of stone or ceramic tile surfaces.
Offers various tile sizes, shapes, and patterns, including marble and slate.
Texture and embossing for a genuine stone or tile appearance.
Highly durable and ideal for high-traffic areas.
Where to Install Luxury Vinyl Floors
Luxury vinyl floors, renowned for their versatility, can enhance multiple areas throughout your Meadville, PA, residence. Their adaptability has made them a sought-after choice among homeowners seeking both elegance and durability. You can confidently incorporate luxury vinyl floors into the following spaces:
Living Rooms and Bedrooms: Elevate your living spaces with the cozy and elegant ambiance of luxury vinyl planks or tiles.
Kitchens: Luxury vinyl's resilience against moisture and spills makes it an ideal option for kitchens, where accidents are inevitable.
Bathrooms: Experience the beauty of tile-inspired luxury vinyl in bathrooms, combining aesthetics with the convenience of easy maintenance and water resistance.
Basements: Transform your basement into a functional and inviting area with luxury vinyl floors that withstand occasional moisture.
Entryways and Mudrooms: Luxury vinyl's durability and ease of cleaning make it a perfect choice for high-traffic entry areas, ensuring lasting beauty.
Commercial Spaces: Beyond residential use, luxury vinyl is popular for commercial settings due to its durability and appealing aesthetics.
Discover the perfect luxury vinyl flooring solution for your unique space at Foulk's Flooring America. Explore our options and bring style and functionality to your home or business.
Benefits of Luxury Vinyl Flooring
Luxury vinyl flooring offers a wealth of advantages that position it as a premier choice for homeowners:
Aesthetic Versatility: Luxury vinyl convincingly mimics the look and texture of natural materials such as wood, stone, and tile, offering a wide array of styles, colors, and patterns to complement any interior design.
Exceptional Durability: Crafted from robust synthetic components, luxury vinyl is engineered to withstand heavy foot traffic, making it perfect for busy households and commercial spaces. It stands up to scratches, dents, and daily wear, preserving its beauty for years.
Waterproof Resilience: Luxury vinyl's impermeable nature makes it an ideal choice for moisture-prone areas, such as bathrooms, kitchens, and basements. It remains unaffected by spills or humidity, resisting warping and buckling.
Effortless Maintenance: Keeping luxury vinyl pristine is a breeze. Routine sweeping and occasional mopping are all it takes to maintain its flawless appearance.
Comfortable Walking Surface: Many luxury vinyl options have built-in cushioning, creating a softer, more comfortable underfoot experience. Additionally, this cushioning helps reduce noise within your home.
Budget-Friendly: Luxury vinyl provides a cost-effective alternative that doesn't compromise aesthetics or quality compared to natural materials like hardwood or stone.
Stain Resistance: Luxury vinyl's surface is highly resistant to stains and spills, making it an excellent choice for households with children and pets.
Allergy-Friendly: Unlike carpets, luxury vinyl doesn't trap allergens, making it a healthier flooring option for individuals with allergies.
Choose luxury vinyl flooring from Foulks Flooring America in Meadville, PA, and experience these remarkable benefits for yourself.
Expert Luxury Vinyl Flooring Installation
The importance of precise installation cannot be overstated when achieving a stunning and functional result. Save valuable time and resources by choosing our professional luxury vinyl flooring installation service, delivered by our in-house team of experts. Our highly skilled technicians possess the knowledge and experience to install luxury vinyl floors with the utmost precision and care, whether for a single room or your entire Meadville, PA, home. Let us handle the complexities, and we'll work around your schedule for your convenience.
Discover the advantages of professional flooring installation by contacting us today to schedule your installation project. Experience the transformation of your space with a flawless finish that enhances its aesthetics and functionality.
Rest assured, our work is backed by our Ultimate Confidence Guarantee. If any installation-related repairs are necessary within 30 days, they are provided at no cost to you. Thanks to our efficient click system, our team can complete your renovation with minimal disruptions to your daily life, ensuring a smooth and hassle-free process.
Contact us to learn more about our flooring solutions and installation services. We proudly serve customers in Meadville, PA, and the surrounding communities.