The Beauty & Value of Luxury Vinyl Flooring in Meadville, PA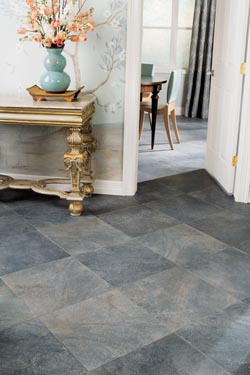 At Foulk's Flooring America, our goal is to give customers what they want. When you asked us for floor coverings that look like the ceramic tile or hardwood plank you love, we obliged. Let us show you our huge selection of luxury vinyl flooring in Meadville, PA. Our flooring showroom is the place to come for brand-name luxury vinyl tile and plank.
The samples we have in stock offer that upscale look of tile or hardwood, but it comes with a smaller price tag. So, you get the appeal of a high-end flooring option, but with all the many benefits of vinyl. Step into our showroom to speak with our sales and design professionals about what you can expect from our luxury flooring.
Vinyl with All the Elegance of Tile
Nowadays, our manufacturers create beautiful vinyl floor coverings that mimic natural materials. Take luxury vinyl tile, for instance. This flooring resembles ceramic, porcelain, or slate tile, down to the colors and whorls of the stone. What this means for you fans of tile is that you can choose our LVT for its ability to imitate the tile you love.
With this selection, you have flooring in your home with all the elegance of tile, but none of the maintenance. This surface asks only that you sweep to get rid of the dirt and damp mop to restore your floor to full beauty.
Vinyl with all the Character of Wood Planks
The grain and gleam of hardwood plank is a perennial favorite when it comes to flooring, but it does take some time and effort to maintain. However, you don't have to worry about that when it comes to our luxury vinyl plank flooring. Available in a wide array of species, finishes, and textures, our vinyl plank has the features you value with hardwood with a lower price tag.
Ask our sales and design professionals to guide you in selecting vinyl plank flooring. This option is made so well, it fools almost everyone.
Vinyl with Resilience & Appeal
Resilient flooring is vinyl that comes in large sheets of 6' or 12' and with a backing of felt or fiberglass. The backing makes this flooring feel soft underfoot, a welcome touch after a long day of working or shopping. Choose resilient vinyl with the appeal of tile or hardwood, or opt for creative patterns or designs.
Once you choose the flooring you like best, we're ready to schedule professional installation at a convenient time. The team we send to your home installs your vinyl carefully to avoid future damage and make it look its best in your rooms.

Contact us today to enjoy the beauty and appeal of luxury vinyl flooring. We proudly serve customers from Meadville, Conneaut Lake, Saegertown, Franklin, and Linesville, Pennsylvania.