Vinyl Flooring in Meadville, PA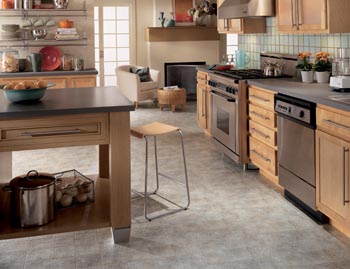 Add dramatic appeal to any room by installing stylish vinyl flooring in your home or business. Vinyl sheet and plank flooring offer a luxurious look at a modest price. Browse our large showroom for a broad assortment of vinyl floors in various colors, patterns, and price ranges. Whether you want highly durable vinyl sheet flooring or the one-of-a-kind look of vinyl plank flooring, you're sure to find it at our store.
Our associates are committed to finding you right type of flooring that suits your lifestyle. Whether you're looking for a floor that offers the right aesthetic appeal to fit the atmosphere of your home or a durable surface that can withstand wear and tear, you'll find both in vinyl flooring. From resilient vinyl plank to beautiful vinyl tile, depend on our team members to help you select the flooring pattern, style, and design that meet all of your needs and wants.
Modern Vinyl Plank Flooring in All Varieties
Do you imagine old and unattractive flooring when you think of vinyl? It used to be that way but today's vinyl floors offer beauty, style, and practicality. Growing in popularity, our vinyl plank flooring is often the product of choice for frugal yet style-focused customers.
Modern vinyl floors come in all kinds of colors and varieties. They offer a high-end appearance with a variety of impressive benefits. Using advanced photographic technologies and eye-catching designs, vinyl plank flooring is created to mimic all of the following materials:
The Advantages of Vinyl Sheet Flooring
You want to transform the floors in your home, but you need a low-maintenance, budget-friendly product. Make the economical choice without sacrificing style. A vinyl floor installation achieves the results you want. Available in all varieties, this flooring product mimics just about any material. From hardwood to tile to natural stone, you'll find the perfect product to meet your needs.
Another feature that makes vinyl flooring such an attractive option is its low maintenance. Vinyl is one of the easiest floors to keep clean. As long as the floors are swept regularly and mopped occasionally, they will continue to look just as good as the day they were installed. You don't need to purchase any special cleaning solution either. Regular household cleaning supplies are all that are needed to keep them sparkling.
Busy households require floors that are not just easy to clean, but ones that are also able to withstand constant foot traffic. Vinyl floors are known for their strength and durability. If you like having guests over frequently or have small children and pets running around the house all day, these floors will be perfect for your lifestyle. No matter what falls on the floor, this flooring stands the test of time and continues to look great for many years. Allow our friendly and knowledgeable staff to help you choose the right type of vinyl flooring for your lifestyle and needs.
Some materials, such as hardwood, aren't able to be installed in some areas of a home. The humidity in moisture-prone areas, such as the bathroom or basement, can make wood buckle. Vinyl flooring is water-resistant, which allows you to get the look and feel of wood without having to worry about moisture damaging it.
Ultimate Guarantee on Vinyl Floor Installation
Don't settle for less when you can have the best. We are so confident that you'll be thrilled with your new vinyl floors that we offer the industry's best guarantee. If for any reason you are not satisfied with your new vinyl flooring within 30 days of installation, we'll replace it without charging for additional labor.
At the same time, with our Lifetime Installation Guarantee, we promise to fix any installation-related issue at our expense. You simply cannot go wrong when you choose us for your vinyl floor installation services. We offer top-quality products, affordable prices, and professional installation services that ensure your 100% satisfaction.
You need an affordable way to remodel your home. Why not start with your floors? Our discount vinyl flooring products transform any room in the house. We work hard to make sure you don't go over your budget. We believe you shouldn't have to sacrifice quality to get the floors you can afford. During your consultation, we go over everything you need in a floor and your budget. Once we have a good idea of where you stand in both areas, we can help pinpoint floors that meet all of your expectations.

Contact us when you're ready to start revamping your surface. We serve our customers in Meadville, Conneaut Lake, Saegertown, Franklin, and Linesville, Pennsylvania.