Beautiful Wood-Look Tile in Meadville, PA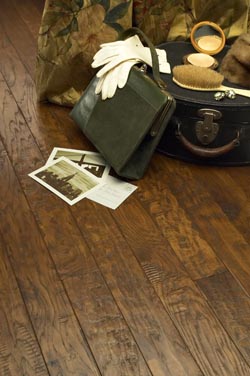 Home remodeling is your opportunity to give your favorite spaces a new look and feel. Impart a distinct ambiance to your property with the help of Foulk's Flooring America. We offer a vast selection of wood-look tile in Meadville, PA. With our impressive selection of flooring, personalized customer support, and professional installation services, attaining picture-perfect interiors is a hassle-free experience.
The Advantages of Wood-Look Tile
Enjoy the beauty, strength, and resiliency of wood-look flooring. At our showroom, you'll never have to make compromises between function and form. Wood plank porcelain and ceramic tile is a versatile material that goes well in virtually any room. Whether you are re-flooring a favorite space or are planning a total home makeover, you cannot go wrong with this flooring type.
First and foremost, wood-look ceramic and porcelain flooring successfully emulates the appearance of natural hardwood. Since it is made from dense materials and is highly resistant to water, this means that the flooring will not shrink or warp over time. This makes wood plank ceramic tile and its porcelain counterpart, a fine addition to virtually any room—including the kitchen, bathroom, and basement.
Ceramic and porcelain are well-known for their durability. These floors withstand the rigors of everyday use and foot traffic handily, making them a smart addition to common areas. Their strength also includes perks for cleaning up, too. These floors incorporate special glazes that repel spills, dust, and dirt. They are easy to maintain, allowing you to save your time and energy for more of what you love.
A little-known benefit to porcelain and ceramic wood tile is its heating and cooling capabilities. This flooring material disperses heat. An underfoot heating system with tile flooring ensures comfortable indoor temperatures. When the weather gets warmer, tile remains cool for a long period. The result is a better home that feels great all year long.
Flooring Services You Can Count On
It's time to put your remodeling ideas into action. At our showroom, we have a stunning selection of ceramic and porcelain wood tile. View samples of our flooring and find your favorites. If you aren't sure where to start, there's no need to worry—our showroom associates are here to guide you on your remodeling project.
The strength and beauty of your new flooring rest on a successful installation. Let our professional installers do all of the hard work for you. Our crews have the skill and experience to handle each aspect of your re-flooring project. We work quickly and carefully to ensure you get the right results—all according to your schedule.

Contact us to learn more about our selection of wood-look tile in Meadville, PA. We proudly serve customers in Meadville, PA, including Conneaut Lake, Saegertown, Franklin, Linesville, and the surrounding area.